Tutsplus.com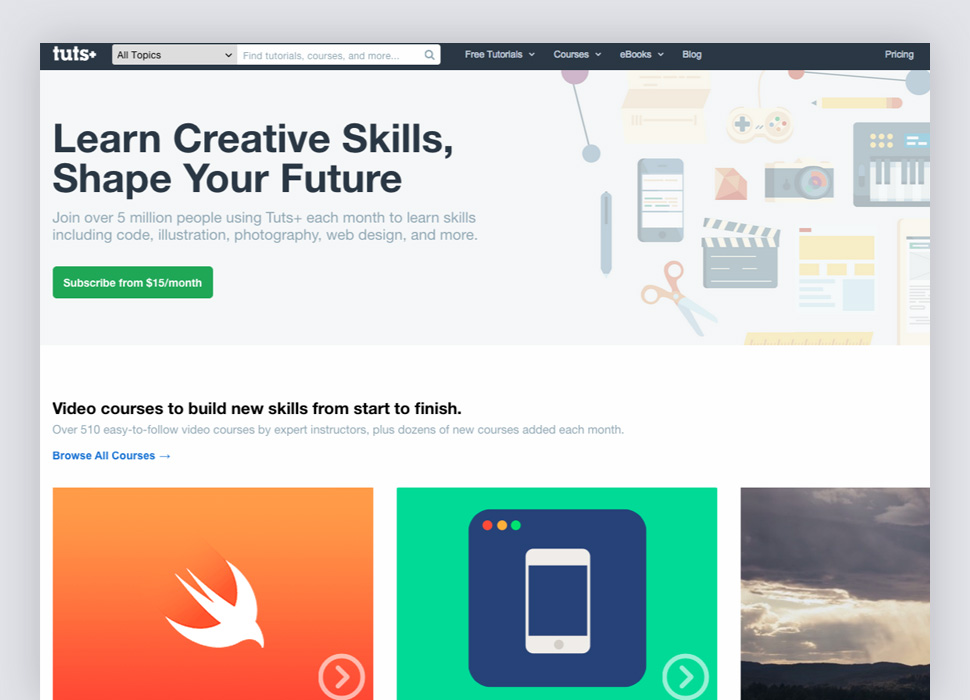 About Tutsplus
Tuts+ helps you learn creative skills and shape the life you want.
As part of Envato's creative ecosystem, Tuts+ contributes to our mission of "helping people learn and earn online". We love to see how people transform themselves and their lives by learning creative skills and earning money selling their creations or services to the world.
Whether your day job is creative or not, life is better when you learn and apply creative skills regularly. To do this is satisfying in its own right and a practical investment in your future.
[source: Tutsplus]
Features
Self-Directed Learning

It's inspiring to see busy people who are committed to developing and refreshing their skills. This isn't school: there aren't any uniforms or tests or badges. For lifelong learners who are seeking practical skills and real-world outcomes, true motivation comes from within. So there's no single 'correct' path at Tuts+. Learn at your own pace, whenever or wherever you like. Focus deeply on one topic, or go broad across a wide range of areas. Whatever creative skills you seek, we're here to help you take charge and shape your own path to a better future.

Creative Skills for All

We believe everyone can be creative. It's not a rare or magical talent, just a mindset and a set of skills. We're all born with curiosity, playfulness, and an ability to learn. As adults, we can choose to foster that creative spark and devote time to master the practical skills needed. Why not develop your skills in code, design & illustration, music, photography, game development, craft or more? Take that photo. Build that app. Write that song. Draw that picture. Invest some time in learning new skills and then go create something wonderful!

A World of Opportunity

Whatever your current situation, we believe you are in charge of your future. You're never too old to learn something new. Yes, it will take commitment and hard work, but it's also very satisfying. Learning creative skills can be your passport to a better and more rewarding life. Create interesting things in your spare time. Pursue a great job doing what you love. Sell your digital items onEnvato Market or offer creative services on Envato Studio. There are so many possibilities-and it can all start with learning new skills at Tuts+.
Get Resource
You May Also Like
WooCommerce Video Tutorial By WooThemes

FREE
Reviews
You must log in to submit a review.
Tutsplus.com
FREE
Get Resource
Resource Tags
Recommended